[Lake of Kalandra] PoE 3.19 Elementalist Explosive Arrow Ballista League Starter Build
PoeCurrencyBuy
Date: Aug/24/22 06:17:49
Views: 6636
This is PoE 3.19 Elementalist Explosive Arrow Ballista Lake Of Kalandra league starter guide. Basically, this build will probably be the best all-round build in the game for the third league in a row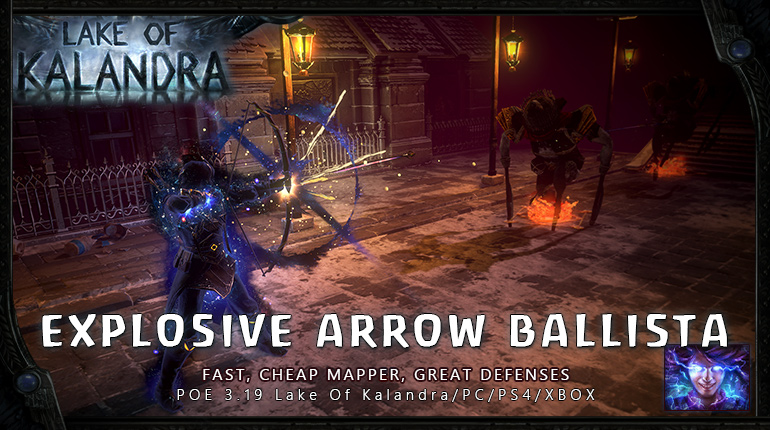 Pros & Cons
+ Amazing DPS
+ Amazing clear
+ Amazing bossing
+ Amazing tankiness
+ Very simple gameplay
+ Drop totems and run
- Have to backtrack for some items that drop
Skill Tree
Ascendancy: Shaper of Flames -> Mastermind of Discord -> Heart of Destruction -> Bastian of Elements for defence, or Shaper of Storms for offence.
Bandit: Kill all
Passive Tree & PoB
Path of Building Link: https://pastebin.com/9MrARdXc
Gems Setup
Bow
Explosive Arrow, Ballista Totem, Awakened Burning Damage, Awakened Elemental Damage With Attacks, Lifetap support, Ignite Proliferation. Swap in Awakened Deadly Ailments for Pinnacle Bosses.
Chest
Determination, Grace, Purity of Elements, Defiance Banner, Precision, Enlighten (4)
Culling strike setup (throw on bosses to cull them):
Arcanist Brand, Flame Surge, Lifetap, Culling Strike.
Frenzy and Combustion setup
(fire frenzy for charges, and throw trap on bosses for combustion):
Frenzy, Lifetap, Lightning Spire Trap, Combustion.
CWDT setup
CWDT, Immortal Call, Molten Shell, Flame Dash
Leveling Guide
Gear Setup
Bow
You want to prioritise ATTACK SPEED. Attack speed is essential for this build, so you MUST have a short/thicket bow.
Short/Thicket Bow
+1 socketed gems
+2 socketed bow gems
17%+ Attack Speed
Craft fire DOT or gain fire as extra chaos.
Can use a Quill Rain or Storm Cloud early on for cheap. Upgrade when you have the $$.
Quiver
Fire damage over time
Attack speed
Life
Elemental damage with attacks
Resis
Chest
Lots of options here to suit your needs:
Helmet
Adds 85 to 128 Cold Damage
Your Hits treat Cold Resistance as 10% higher than actual value
---------------------------------------------------------------------------
+54 to Dexterity
+105 to maximum Life
+45% to Fire Resistance
10% of Physical Damage from Hits taken as Fire Damage
Nearby Enemies have -9% to Fire Resistance
21% increased Evasion Rating
+16 to maximum Life
Blizzard crown with life, resis, -9%+ fire damage.
Gloves
Damage over time
Attack speed
Spell suppression
Life
Resis
Boots
Movespeed
Spell suppression
Life
Resis

Can use Atziri's Step for a cheap option, and provides great stats.
Amulet
Damage over time
Life
Resis
Elemental damage with attacks
Allocates Watchtowers
+16 to all Attributes
------------------------------------------------
+14% to Fire Damage over Time Multiplier
+32% to Global Critical Strike Multiplier
+1 to Level of all Dexterity Skill Gems
+55 to maximum Life
Bonus if you can get +1 gems or even better +2 gems (fire/dex gems).
Rings
Life
Accuracy
Resis
Curse on hit with flammability
Elemental damage with attacks

The new ring Polaric Devastation is AMAZING for the extra DPS by covering enemies in ash. If your defence/life is all good, then opt for this ring in your LEFT slot.
Belt:
Dyadian Dawn. Use catalysts to get ignites to deal damage faster at 42%.

Headhunter

is best in slot for end-game (mapping).

Mageblood

is good too, or other life/res as needed.
Lastest POE Builds, News and Guides